(season three - spring 2012)
Archive #20
For the Madman the Neighbor is Himself
A project by Rita Sobral Campos
Film screening with musical accompaniment by Luis Marques,
followed by a discussion with Pedro Barateiro
"Police continue to investigate the recent events surrounding the statues with missing heads. The latest count of headless statues in the continent amounts to 2,058. Senior detectives are still at odds with the circumstances surrounding this wave of crimes. No details have been released regarding the prime suspects or possible motives. We will keep reporting as the story develops."
For the Madman the Neighbor is Himself charts the conflicts of the so-called Cephalic Wars, with particular emphasis on Mr. Leader, the main protagonist. This conflict embodies a battle between sanity and madness, with the emergent Nation claiming primacy of Unreason over Reason. Two years in the making, this presentation will feature several newsreels and short documentaries on the period.
Together with this program there will be the book launch of For The Madman the Neighbor is Himself published by Sputnik Press. This field-defining collection of texts consolidates and builds momentum in the expanding area of Leaderian studies. It draws from original sources, including vivid accounts from Mr. Leader himself, as well as academic studies and media coverage of the Cephalic Wars. In some ways it is a meditation on fate and free will. The result, the first coherent account of the archfiend of Mainland, is a fascinating study in the history of the modern mind.
Mr. Leader: A Patriotic Crook
Newscast Special: Mainland Reports
The Cephalic Wars: The Search for an Ever-Fleeting Sense



Rita

Sobral

Campos (born in 1982, Lisbon, Portugal) lives and works in New York. She is best known for her text-based projects, but works across a wide range of media including installation, film, photography, sculpture and literature. Her work has been shown in many international venues including Sculpture Center in New York, US (2011); MNAC-Museu Chiado, Lisbon, Portugal (2011);

Ludwik Grohman Villa and Book Art Museum in Lodz, Poland (2009)

; Emily Harvey Foundation, New York, US (2008). Collaborations include Artists Reading, with Isla Leaver-Yap, at CAGE, New York, US (2012) and UNCLEHEAD, with Alexandre Singh at the Museu de Electricidade, Lisbon, Portugal (2008). In 2010

Sobral

Campos was a fellow at Sommerakademie, Zentrum Paul Klee in Bern, Switzerland.

___________________________________________________________
Recent years have witnessed an avalanche of critical commentary on the work of the controversial German legal theorist Carl Schmitt (1888-1985). However, one area of his thought that has often been overlooked is his contribution to geophilosophy. In his 1942 book, Land and Sea, Schmitt presented an image of world history driven by the tension between the geo-elemental forces of land and sea, represented in the battle between the mythical beasts, leviathan and behemoth. Schmitt argued that opposing forms of human society emerged in relation to these geo-elements, political order literally being 'grounded' upon land and 'dissolved' upon sea. This paper will argue that Schmitt's geo-mythological history is deeply anthropomorphic and fails to grasp the complex relations between the human and the non-human. It is rather principally used to justify his aesthetic understanding of political order as founded upon the visible division of space. A critical examination of Schmitt's work will open on to a wider reflection on the possible relationship between forms of political thought and geophilosophy that refuse these aesthetic and anthropomorphic bounds. The paper will conclude by asking if it is possible today to look beyond old distinctions between land and sea, man and nature and the human and non-human in order to envisage a new political cosmology.
Rory Rowan is a PhD candidate at the Department of Geography at Royal Holloway, University of London, where he is completing his thesis on the concept of space in the work of Carl Schmitt. His work concerns the relationship between continental political philosophy, spatial imaginaries and material geographies. His writings on politics, philosophy and art have appeared in a number of online and print publications.
___________________________________________________________
Archive #18
Agência: Algumas Formas ao Alcance de Todas as Mãos II
It happened in Tunisia. And one sole country sufficed to trigger an avalanche of protests and revolutions, from Egypt to Syria and all throughout North Africa and the Middle East. Its consequences are still ambiguous and unfolding. Meanwhile, on the other side of the Mediterranean the financial markets speculated further, in a speculative turn from the 2000s housing bubble to that of foreign debt. While Troika (ECB-IMF-EC) validates new loans to developed countries, Europe secretly questions the viability of the eurozone. To this dynamics is added the appropriation of a new vocabulary of occupation, re-discovered between the streets and the virtual space of the internet.
While it is not our ambition to address the totality and complexity of 2011, it is hard for us to synthesize such an intense year without mentioning the urgency in making Agency - Algumas formas ao alcance de todas as mãos happen once again. It was this year's events that triggered the widening of the speculative scope of the program, leading to a new set of discussions about themes such as the public mediation of intellectual property, the exemplarity of the debate on its jurisdiction beyond the virtual, as well as the intrusion of finance into daily life.
From the persecution of Wikileaks to the closing down of Megaupload, could we be witnessing a turning point in the potential of the internet, either by its rising policing, or by its regenerative capacity, capable of producing new models for sharing? In the same nano-second of informatic transaction coexist both the freedom of sharing promised by the internet, and the accumulation of capital allowed by finance. How can we thus understand the cyclicity of capitalist crisis, or the topology of interactions of a financial society, in face of the models of feedback proposed by cybernetics, structural to contemporary economy? Questions such as the regime of risk assessment and debtocracy, as enhanced by the european crisis, and its consequences for a state of rising labour precarity, as well as for the commodification of intellectual propriety, will be in debate. Therefore, this set of dynamics will be analysed under the discussion about the Common, as had throughout the past decade; its refutation capacity and its ongoing transformations.
The first session of Agência, taking place on the 31st of March, will be held by Benedict Seymour, who will carry on a reflection on the potential of the abstract models evoked by financial speculation. This will surely imply an analysis of its direct consequences, consisting either in its viral forms of transubstantiation and (a)political operative modes, or in the restructuration of the socio-economic interactions of the actual value systems, consequences which will be reflected upon the recent riots and demonstrations occurring throughout Europe and the UK.
The second session, held on Thursday the 5th of April by Ricardo Noronha (a member of Unipop), will have focus on the debate about the Common, reflecting on the mediation of public and private property towards the construction of new forms of subjectivity, having at its core the work of Michael Hardt. This session will be followed by a presentation by Teresa Nobre, legal consultant of Creative Commons Portugal, who will provide a critical introduction to the recent copyright legislative treaties, widening the discussion by way of an analysis of the rising possibilities allowed by new models of regulation of intellectual property and shared production of knowledge.
In parallel, selected readings
will be provided
online
accompanying the cycle
Agência,
by Marina Vishmidt, Michael Hardt, or Benedict Seymour.
About the Sessions:



31st of March, Saturday 18h
Shorter Circuits: Finance, Feedback, and Culture in the second wave of the Crisis. by Benedict Seymour
Benedict Seymour will discuss the revolts and restructurings of 2011 as introducing a new wave of crisis, in which the initial coping strategies, reflations and austerities, start to build up and release new conflicts and problems for the system. With debt moving from the banks to States, and with the insolvency of private capital becoming the insolvency of sovereign nations and the immiseration of their populations, the feedback loop of crisis shifts into open repression and contracted reproduction of populations. As well, we shall look at the resultant exhaustion of the (formal) political process (protests, strikes etc) in Europe and the UK and consider the extent to which forms of 'non-political' activity such as the riots in the UK last August take their place. Are these the most articulate and advanced forms of political practice? How do they parallel or dialectically invert the form of contemporary finance (automated 'algobots', 'high frequency trading' and 'flash crashes') and what is the role of cybernetic social media here (Twitter, Blackberry, smart phones etc) in disarticulating consumer behaviour into forms of collective anti-value activity or 'writing (down)'?
5th of April, Thursday 18h30
Public, Private and Common by Ricardo Noronha (Unipop)
The role of propriety is nowadays substantially altered. The appropriation of goods was long ago the essence of property. Today, in its immaterial form, capital seeks to appropriate appropriate above all of the common, that is, the set of relations networked into the productive process - the totality of life details made objects and subjects of production. This capitalist tendency for the transformation of the common into private property produces, simultaneously, the conditions of resistance to capitalism and the construction of new social relations based on cooperation - the end of communism.
On the other hand, neoliberalism has highlighted the opposition between private and public property; a tension between the compulsion toward private appropriation and an abstract universality substantiated by the State. The flourishing of the common expresses the negation of this opposition, in the sense that, in itself and in view of the production of subjectivity, it is the negation of the notion of propriety and, at the same time, its self-affirmation: "the affirmation of an open and autonomous biopolitical production, the permanent self-governed creation of a new humanity."
+
Copyright Policies | Free/Open Culture Movements by Teresa Nobre (Creative Commons)
This session will present essential notions about movements of free/open culture, new business models based in Creative Commons licenses, open education and the limits of copyright and connected rights. This militant positions will be discussed in contrast with the recent legislative proposals and international agreements which attempt to regulate the sharing practice motivated by the digital era, such as SOPA, PIPA, or ACTA. Hence, debate will be promoted in the manner of an open discussion which will have its focus on questions such as intellectual property and its regulation, freedom of creation and right to access, or the organic evolution of production of knowledge.
Biographies of participants:
Benedict Seymour is a writer, musician and filmmaker, and a contributing editor of Mute. His current interests include financial and social crisis; fictitious capital and the looting of social reproduction; austerity, abstraction, and their inscription in art and film. He is currently working on a video essay about dyslexic capitalism, aphasic politics, and rioting as writing (deeds against capital). He is currently in the final year of a practice based Phd at the University of Wolverhampton's School of Art & Design: 'The Time/Money Image: Fictitious Capital, Film, and Social Non-Reproduction' and Lectures Fine Art on the MFA at Goldsmiths College London.
Ricardo Noronha has a PhD in Social and Economic Contemporary History from the University Nova of Lisbon, and dedicates his study to the socio-political and economic transformations during the portuguese revolutionary era of 1974-75. He is a member of the UNIPOP collective.
Teresa Nobre works as a legal advisor and provides consultancy and research services on Intellectual Property to artists, creative companies, technology-based companies, law firms, consulting firms and public sector organisations. She has also been engaged by the World Intellectual Property Organization to undertake ad hoc projects as a Portuguese-speaking consultant. And she is the Legal Project Lead of Creative Commons Portugal, being responsible for adapting all CC licenses and legal tools to Portugal and for providing support to major Portuguese license adopters (including the Portuguese Government). Teresa holds a Law Degree from the University of Lisbon Faculty of Law and an LL.M. in Intellectual Property from the Munich Intellectual Property Law Center. She is an attorney-at-law, licensed to practice law in Portugal. Teresa gives talks and lectures on IP Basics, IP Strategic Management, IP Licensing and Technology Transfer, Copyright Trends and Open Licences. She is currently organizing a collaborative and multidisciplinary event dedicated to Open Culture.
_
more info and parallel readings here:
Agência: Algumas Formas ao Alcance de Todas as Mãos
is a project by Margarida Mendes, Mariana Silva and Pedro Neves Marques.
___________________________________________________________

Archive #17
Monday, 9th of January 21h30
« La zooanthropolitique, plutôt que la bio-politique, voilà notre horizon problématique. »
La Bête et le souverain, p.100, Jaques Derrida, Editions Galilée ( 2008)
.
___________________________________________________________
Recently in Residence
:
Maria Minerva a.k.a. Maria Juur
from Estonia was in residence for 3months recordin

g her
new album

to be released by Not Not Fun by summer 2012.

A r c h i v e
(season two - 2011)
Archive #16
Friso-Freezing (
liberta, congelar, friso)
Freezing-frieze (frees, freeze, frieze)
16 & 17 December
André Sousa
nasceu no Porto em 1980, cidade onde vive e trabalha. Estudou Artes Plásticas na Faculdade de Belas Artes da Universidade do Porto (1998/2003) e desde então apresenta o seu trabalho regularmente. As suas últimas exposições individuais foram "Fabel/ Fábula /Fable" na Kunstlerhaus Bethanien (Berlin, 2009) e " -_- (sem título)" na Galeria Quadrado Azul (Porto, 2010). Em colaboração com outros artistas, fundou e desenvolveu os projectos PêSSEGOpráSEMANA, Mad Woman in the Attic, Wasser-Bassin ou Uma Certa Falta de Coerência. Foi bolseiro residente da Fundação Calouste Gulbenkian na Spike Island (Bristol, 2007) e na Kuntlerhaus Bethanien (Berlim 2009). Publicou com Tobias Hering o livro "Fabel/Fábula/Fable".
http://andre-sousa-studio.blogspot.com/
___________________________________________________________
Archive #15
(Fundraising event)
Ainda estão disponíveis as últimas cópias das mixtapes dos artistas
André Guedes, João Onofre, Diogo Evangelista, João Pedro Vale, e !Von Calhau! produzidas especialmente para a Barber Shop!
Estas edições estão disponíveis num número limitado de 7 exemplares,
podendo ser adquiridas pelo valor de 10 euros.
___________________________________________________________
Archive # 14
___________________________________________________________
"Departing from two exhibition projects, Mimétisme (2008) and Animism (2010-12), I wish to discuss in this talk the proposal that in order to re-claim politics at this very moment, in which the old resources of critique seem irreversibly exhausted, we need a new historiographic engagement with the modern past, including the history of modernist art, the avant-garde, and its aftermaths. The resources of current power, and its capacity of evasiveness, unfold between cybernetics and the self - as the very space where the digital frontier takes place. The two exhibition projects are proposals for articulating a vantage point for such historical narration.
"



Anselm Franke

is a curator and critic based in Berlin and Brussels. Until the end of 2010, he was the Director of Extra City Kunsthal Antwerp, where he curated exhibitions such No Matter How Bright the Light, the Crossing Occurs At Night (2007), Mimétisme (2008) and Sergei Eisenstein: The Mexican Drawings (2009). In 2008, he was a co-curator of Manifesta 7 in Trento, Italy; and a co-curator of the 1st Brussels Biennial. His long-term project Animism started in Antwerpen (Extra City and MuHKA Antwerpen) and Kunsthalle Bern in 2010, and will be shown in different versions in the Generali Foundation in Vienna (September 2011) and the Haus der Kulturen der Welt in Berlin (March 2012). Since 2011, Anselm Franke is responsible for the theory program at the Higher Institute for Fine Arts (HISK) in Ghent; and he teaches at the HfG Karlsruhe, among others. He currently completes his PhD at the Center for Research Architecture/Visual Cultures at Goldsmiths College London.
___________________________________________________________
Archive
#12
Participating artists (in order of appearance):
Davide Balula, Laetitia Badaut-Haussmann, Nicolas Chardon, Hugo Canoilas, Von Calhau, Francis Upritchard, Stephania Galegati, Pedro Neves Marques, Pauline Curnier-Jardin, Nico Angiuli, Sara & André, Karina Bisch, Daniel Barroca, António Contador, Elisa Pône, Diego Perrone, Celine Condorelli, Ângelo Ferreira de Sousa, Invernomuto, Cesare Pietroiusti, André Uerba, Mathieu Laurette, Ignasí Aballí, Carla Cruz, Susana Pomba, Becky Beasley, Filipa Ramos, Marco Raparelli, Simone Berti, Rita Sobral Campos, Fernando Mesquita, Alexandre Estrela, Gerlach en Koop, Ana Cardoso, Francisco Queirós, Pablo León de la Barra, Lisa Tan, João Simões, Jacopo Miliani, Stephen Lichty, Tiny Domingos, Iacopo Seri, António Ortega, Isola and Norzi, Chiara Fumai, Esther Planas.
.
Antonio Contador

(1971, Vitry-sur-Seine/France). Lives and works in Paris. After studies in economics and sociology, he fulfills a PhD in Aesthetics at the University of Paris I/La Sorbonne since 2007 on the notion of Waiting, and an activity as visual artist and performer since the mid-2000s. He was a visiting professor at the School of Arts and Design in Caldas da Rainha from 2003 to 2007.
http://www.antoniocontador.net
Filipa Ramo

s (*1978, Lisbon) is an independent writer and a sporadic curator based in Milan. She is Associate Editor of Manifesta Journal and member of the editorial board of the magazine Art and Research. She teaches History of Contemporary Art at the Accademia di Brera, Milan and at IUAV/University of Venice. She is the co-author of the book Lost and Found - Crisis of Memory in Contemporary Art (Silvana Editoriale, 2009) and coordinates the project The most beautiful Kunsthalle in the world at Fondazione Antonio Ratti, Como.
___________________________________________________________
quinta-feira 2 Junho 22h
Mónica Carballas apresentará uma sessão de filmes partindo da sua investigação
sobre produção audiovisual Brasileira durante o período da ditadura na segunda metade
do século XX. Baseando a sua pesquisa na produção Super8 e experiências pioneiras em
video entre meados dos anos sessenta e meados dos anos oitenta, Mónica Carballas fará
uma
breve reflexão sobre as experiências criativas partilhadas e o impacto da prática
experimental
perante a intensificação do regime político vigente na altura.
A apresentação fará também
referência a uma performance que aconteceu em frente
ao Museu de Arte Moderna do
Rio de Janeiro em 1968, entitulada Apocalipopótese.
Programa de Filmes (sessão única) :
Geraldo Anhaia Mello
A situação, 1978, 9 min.
Regina Silveira
A arte de desenhar, 1980, 2 min. 23 seg.
Morfas, 1981, 7 min.
Letícia Parente
Marca registrada, 1975, 10 min. 30 seg.
Preparação I, 1975, 3 min. 30 seg.
Preparação II, 1976, 7 min. 40 seg.
Paulo Bruscky
Arte/ Pare, 1973, 2 min. 30 seg.
POESIA VIVA, 1977, 7 min.
-
Mónica Carballas foi coordenadora de exposições no Museo Nacional Centro de Arte Reina Sofía em Madrid entre 2000 e 2007. Recebeu uma bolsa da Fundación Marcelino Botín em 2007 pelo seu trabalho sobre Arte Experimental Brasileira. Entre as exposições comissariadas recentemente destacam-se Experimental Rio: Beyond Art, Poetry and Action, 2010 na Fundación Botín em Santander; Labyrinth of Visibility: Experimental Audiovisual works during Dictatorships na Trienal de Artes Visuales in Santiago de Chile, 2009; e Activar una historia, incluída no programa da Bienal de Valencia, 2007. Colaborou com a revista Artes & Leiloes entre 2007-2008, e é coordenadora do projecto editorial Pisueña Press, em Espanha, que pública a série de livros: White Wine Press (escritos de artista) e Conversaciones en la cabaña (conversas entre críticos e artistas).
___________________________________________________________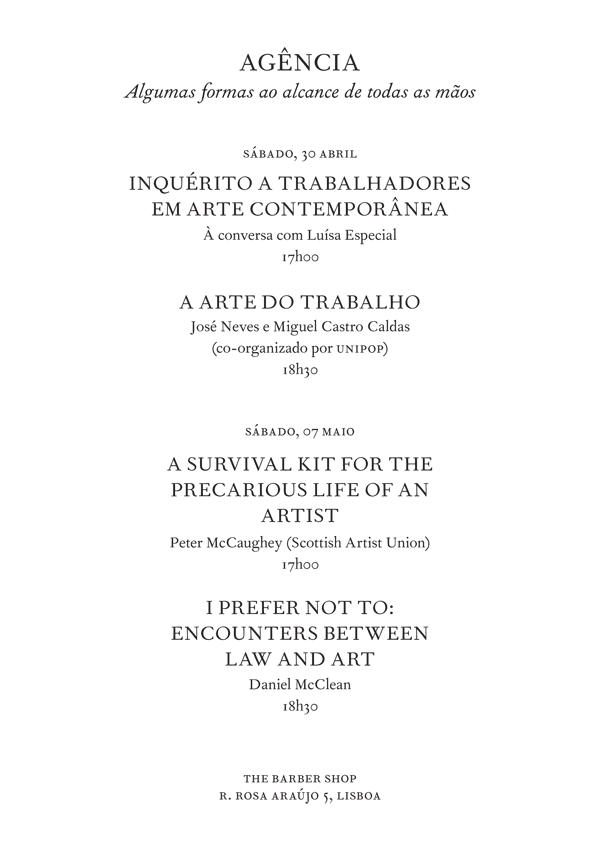 Agência

é uma entidade abstracta, simultaneamente estrutura e impulso que gera actividade, identificada como intermediária na gestão de negócios pessoais. Mas aqui, o que nos deveria interessar é a própria definição daquilo que é negócio alheio: serão a precariedade, a subsistência, das finanças aos rendimentos, como a própria representação artística, parte dos negócios que não nos concernem como autores e produtores? Ou é esta a componente do negócio da qual nos alheamos voluntariamente, por não a considerar trabalho ou tópico propriamente dito? Deixemos então cair nas nossas mãos, nas suas variadas qualificações e inqualificações, estes negócios alheios, possibilitando a discussão colectiva das vantagens e opções individuais de trabalho para lá do trabalho autoral.
Se a crítica institucional pressupunha a instituição como campo de acção e poder, é possível que esta tenha de se reestruturar e dirigir à vida em si mesma de modo a responder à biopolítica que define o capitalismo actual. Isto porque se por um lado esta dissolução de esferas de competência é tradição do modernismo artístico, por outro lado é para as condições de vida dos artistas que um mercado flexível olha hoje como modelo empreendedor e neo-liberal.
Assim, pedimos emprestado ao falecido pintor Ângelo de Sousa, o título que atribuiu aos desenhos feitos de gestos simples, gramáticas para linguagens entre corpos, capazes de serem feitos por qualquer um, no seu imaginário de equivalência e acessibilidade. Com Ângelo de Sousa, pressupomos então que uma tal passagem da arte às condições e opções de vida podem somente dar-se por um princípio de empatia e agenciamento.
Em quatro sessões abordar-se-ão questões sobre a noção de trabalho em Arte Contemporânea. Estas sessões percorrerão uma reflexão sociológica da área em Portugal (Luísa Especial), a análise teórica e filosófica do trabalho precário no capitalismo actual (José Neves/ Miguel Castro Caldas), alguns exemplos de associativismo e activismo laboral (Scottish Artists Union), bem como de quando a arte e direitos de autor se imiscuem na área do Direito (Daniel McClean). Em paralelo serão disponibilizados conteúdos online, que amplificam a área de reflexão do programa, tais como como uma entrevista com os Temporary Services e o seu jornal Art Work, contribuições da Agency de Kobe Matthys, bem como os resultados do inquérito a trabalhadores em Arte Contemporânea circulado online em Portugal em Abril de 2011.



Agência: algumas formas ao alcance de todas as mãos

é um projecto concebido por The Barber Shop com Mariana Silva e Pedro Neves Marques.






sobre as sessões:
Em conversa com Luísa Especial, serão abordados alguns dos resultados do inquérito a trabalhadores no campo da Arte Contemporânea e
m Portugal, circulado on-line em Abril de 2011.
José Neves e Miguel Castro Caldas
Sessão co-organizada por

Unipop:
Conhecemos bem os efeitos dos processos de mercadorização em curso. Tendem a submeter as mais diversas actividades humanas ao princípio mercantil. Faz-se o que se vende. Nos últimos anos a cultura em geral e a arte em específico têm sido áreas particularmente influenciadas por este princípio. A situação tem gerado inúmeros debates em torno do estatuto do artista e da própria obra de arte, bem como acerca das relações da arte e da cultura com o Estado e com o Mercado.
Ao mesmo tempo, embora, porventura, com menor repercussão a nível dos debates públicos, as actividades mais convencionais de produção de mercadorias - desde logo, as actividades industriais - têm igualmente passado por transformações importantes, redefinindo o estatuto do produtor e do próprio produto. Há quem fale de cidades que se tornam criativas, apoiando-se em processos de gentrificação, e quem refira a emergência de um novo proletariado, um proletariado imaterial, para quem a precariedade é a ordem dos dias e das noites que correm, e o tempo de trabalho e o tempo de vida se tornam indissociáveis: tudo o que se faz é e não é trabalho. É da intersecção destes dois processos - mercadorização da vida, "criativização" do trabalho - que surge o título deste debate: a arte do trabalho.
Como membro executivo da Scottish Artists Union, a contribuição do artista e professor Peter McCaughey focar-se-á em questões práticas
sobre diversas abordagens que poderão guiar os artistas em tempos de acrescida precariedade.
Dada a sua prática enquanto advogado e curador, Daniel Maclean examinará dois pontos a partir dos quais a Lei interpreta a Arte. Primeiro, a classificação e definição de obras de arte; segundo, a articulação e defesa dos direitos dos artistas. Algumas consequências destas interpretações para a arte e para os artistas serão debatidas, bem como o uso por artistas da Lei em Arte e o que este processo propõe em relação à Lei.
(biografias)
Luísa Especial

é doutoranda em Sociologia, no ISCTE. Tem desenvolvido diversos trabalhos na área da curadoria de exposições e escrita de textos sobre arte.



José Neves

é professor no Departamento de História da FCSH-UNL e é investigador do Instituto de História Contemporânea da mesma faculdade.



Miguel Castro Caldas

escreve para teatro, faz traduções, dá aulas. Co-traduziu o «O Governo das Desigualdades», de Maurizio Lazzarato.

+info

Unipop

http://u-ni-pop.blogspot.com/
Peter McCaughey

é membro executivo da Scottish Artists Union. Em paralelo à sua prática artística, faz investigação e lecciona no departamento de Escultura e Environmental Art da Glasgow School of Art. Tem contribuido frequentemente para comissões, colaborando com arquitectos, urbanistas, engenheiros e designers em think tanks sobre arte pública. Recentemente, contribuiu para o livro Cultural Hijack sobre direitos de artista e preparou uma campanha da Scottish Artists Union que visa desafiar os partidos políticos perante as políticas culturais e artísticas vigentes.
Daniel McClean

é curador, escritor e consultor em questões legais ligadas à arte. É advogado na Finers Stephens Innocent, pertencendo à equipa de defesa de Julian Assange. Tem trabalhado com vários artistas em questões de direitos de autor e condições legais, incluindo mais recentemente o projecto dos Superflex Free Sol Lewitt no Van Abbenmuseum, Eindhoven. É o editor do livro The Trials of Art (2008). É formado em Filosofia, Política e Economia pela Universidade de Oxford e em Lei e Propriedade Intelectual pela Universidade de Londres.
Temporary Services

é constituído por Brett Bloom, Salem Collo-Julin and Marc Fischer. Tendo começado na cidade de Chicago, está no activo deste 1998, produzindo exposições, eventos e publicações com foco em direitos de artista e questões relacionadas, nos EUA e internacionalmente, incluindo o jornal Art Work: A National Conversation About Art, Labor and Economics (2009).
Agency

foi fundada pelo artista Kobe Matthys em 1992 e é baseada em Bruxelas. Tem participado em várias exposições e eventos, incluindo Animism (Extra City - Kunsthal Antwerpen/ Museum of Contemporary Art, Antuérpia), Un-Scene (Wiels, Bruxelas) ou When Things Cast no Shadows: 5th Berlin Biennial (Berlim).
___________________________________________________________
(English)
Agência

is an abstract entity, simultaneously structure and activity generating drive, identified as intermediary in the management of personal businesses. Yet, what should be of interest here is the definition of business itself: is the precariousness, the subsistence, of finances and income, as well as artistic representation itself, part of the businesses which fall outside of our competencies as authors and producers? Or is this the component of business from which we alienate ourselves voluntarily, for not considering it work or topic of discussion in itself? Let us then allow these businesses to fall on our hands, on their varied qualification and unqualification, in order to push forward collective discussion on the advantages and individual labor choices beyond authorial work.
If institutional critique presupposed the Institution as a field of action and power, it should perhaps now be restructured and address life itself in order to answer to the biopolitical turn defining late capitalism. If, on the one hand, this dissolution between spheres of competency is a tradition of artistic modernism, on the other, it is to the life conditions of artists that flexible markets are now looking to as a model for entrepreneurship and neo-liberalism.
Thus, we lend from the late painter Ângelo de Sousa the title he gave to his drawings made up of simple gestures, grammars for languages between bodies, capable of enactment by anyone, in their imaginary of equivalence and accessibility. With Ângelo de Sousa, we presuppose then that such passage from art to life choices and conditions can only take place under the principle of empathy and agency.
In four sessions, the notion of labor in Contemporary Art will be inquired. These will range from sociological reflection on the Portuguese artistic field (Luísa Especial); the theoretical and philosophical analysis of precarious labor under late capitalism (José Neves/ Miguel Castro Caldas); examples of association and labor activism (Scottish Artists Union); as well as when art and copyright interfere with Law (Daniel McClean). In parallel, online contents will be made available, amplifying thus the scope of the program, including a Q&A with Temporary Services, while making their Art Work newspaper available; contributions by Kobe Matthys' Agency, as well as the results from the inquiry to workers in the field of Contemporary Art, circulated online in Portugal in April 2011.



Agência: algumas formas ao alcance de todas as mãos

is a project by The Barber Shop with Mariana Silva and Pedro Neves Marques.






about the talks:






Luísa Especial
In conversation with Luísa Especial, the results of the inquiry on workers in the field of Portuguese Contemporary Art, circulated on-line in April 2011, will be presented and discussed. From these, a conversation will be had focusing on the sociology of the field of visual arts, labor conditions, rights, income and representation.
José Neves e Miguel Castro Caldas
Session co-organised by

Unipop:
We all know the effects of the commodification processes at hand. These tend to subjugate the various field of human activity to the principle of the commodity. Only what is sellable is made. In the last years, culture at large, but particularly art, have been substantially influenced by this principle. This tendency has generated several debates on the figure of the artist and the artwork itself, as well as the relation between art, culture, the State and the Market.
Simultaneously, even if with less public discussion, the more conventional production processes of goods - the first of which those industrial - are equally passing through important changes, redefining the figure of the producer and the product along with it. There is talk of cities becoming creative centers, sustained by gentrification processes, as well as discussion on the urgency of a new proletariat, an immaterial proletariat, for which precariousness is of the order of current days and nights, and to whom the time of labor and life have become indistinguishable: everything one does is and is not labor. It is the intersection between these two processes - the commodification of life, the "creativeness" of labor - that the title for this talk addresses: the art of labor.
Peter McCaughey
Artist, Lecturer and Executive member of the Scottish Artists Union will explore some thoughts and approaches on how artists might have a good life and even thrive in difficult times.
Daniel Mclean
From the perspective of his practice as an art lawyer and curator Daniel McClean will examine two key sites in which the Law interprets Art. First, the
classification and definition of artworks; second, the articulation and protection of artists' rights. Some consequences for art and artists of this Legal interpretation will be considered, as well as the translation of Law into Art by artists and what insight into Law (as well as Art) this process of translation might provide.


+ INFO http://www.thisisthebarbershop-agencia.com/




José Neves

teaches at the History Department of FCSH-UNL e is a researcher at the Instituto de História Contemporânea of the same university.



Miguel Castro Caldas

writes for theatre, is a translator, teaches. He co-translated to portuguese Maurizio Lazzarato's book "Le Governement des Inégalités".
Peter McCaughey

"I feel like a three-headed beast. Part maker, part regenerator, part educator. Over the last fifteen years, my time and creative energies have been divided between these related areas that together constitute a practise as an artist. The first head is independent, self-directed maker. In this capacity I have exhibited locally, nationally and internationally, often working with ideas of site and time specificity. My work crosses many mediums and a wide variety of contexts often exploring in-between states when things are slipping between having been, being and becoming. The second head is creative collaborator who negotiates ideas in relation to public realm employing a wide variety of approaches. In this capacity I have taken on major commissions as part of teams of architects, developers, engineers and designers. Masterplanning townscapes, contributing to think tanks at grass roots and local government level and making temporary and permanent art in public space. This work recently involves lobbying for and creating opportunities for other artists. The third area is as a teacher and researcher. In this capacity I have taught in Fine Art Schools in the UK, Portugal and Scandinavia with a permanent connection to Glasgow School of Art in the Sculpture and Environmental Art department. I am currently completing a chapter on the book Cultural Hijack that addresses the artists right to intervene in the world they live in and a shorter piece of writing on the seminal Artists Placement Group. This month I am helping organise a political Hustings for Scottish Artists Union that will challenge the politicians of all the major parties to address their policies on Artists, Art and Culture."
Daniel McClean

is an independent curator, writer, and art-legal adviser. He is a lawyer for Finers Stephens Innocent which works in defense of Julian Assange. Has worked with several artists dealing with copyright issues and legal conditions, including more recently Superflex's project Free Sol Lewitt at the Van Abbemuseum, Eindhoven. He is the editor of the book The Trials of Art (2008). McClean holds a B.A. in Philosophy, Politics and Economics from the University of Oxford and an LLM in IP Law from the University of London.
Temporary Services

is Brett Bloom, Salem Collo-Julin and Marc Fischer. Having began in the city of Chicago, it has been in active since 1998, producing exhibitions, events and publications mostly on artist rights and related issues in the USA and worldwide, including the 2009 newspaper Art Work: A National Conversation About Art, Labor and Economics.
Agency

was founded by artist Kobe Matthys in 1992 and is based in Brussels. It has been shown in several venues, e.g. Animism (Extra City - Kunsthal Antwerpen/ Museum of Contemporary Art, Antwerp), Un-Scene (Wiels, Brussels) or When Things Cast no Shadows: 5th Berlin Biennial (Berlin).
___________________________________________________________
A project of
Caterina Riva (FormContent)
with contributions by
Andrea Büttner, Alex Cecchetti, Etienne Chambaud, Pedro Cid Proenca, Marcelline Delbecq, Marcella Faustini and Chris Fitzpatrick, Isobel Harbison, Margherita Moscardini, Catalina Niculescu, Maria Taniguchi, Nicki Wynnichuck
February 18th, 2011, 22h
Performative readings at 22h30
"Developed in conversation with Margarida Mendes, Pedro Neves Marques and Mariana Silva, when invited to imagine an event for the Barber Shop, the project
Jump Cut: Dialectic Dreams
has become a collaboration with artists, curators and designers dislocated in different corners of the globe. Each of them was asked to contribute to the project with a personal selection of contents and references, often in the format of instructions, that will all be presented at the Barber Shop on the evening of February 18th.
The curator and organizers will lend our voices and accents to read and enact those contributions, most of which are text-based, others sound pieces or videos. The participating artists, curators and designers have shared texts they wrote or worked with, or have offered portion of ideas they are tackling and that will offer to us an oblique profile of their interests and practices.
The evening will be a rhythmic flow of words and ideas and presented like a script that is rehearsed for the first time, so with a good degree of improvisation."
Caterina Riva
Season II had the kind support of
Fundação Calouste Gulbenkian